Posted by gps2
We´ve got a special place here for cids, astronauts, fairies, stories and histories:
Mondgeschichten für Kinder und Astronauten
---
Exaltation for space
We see education within the Open Moon project as an extraordinary chance to reach the community and spread enthusiasm for space. 40 years later the community´s power is able to land on the moon!
This is our very first lecture: What a newbie has to know to reach the moon:

sorry, just in german for now
Our aerospace engineer Carsten Scharfenberg has just written an simple introduction into moonflight. What do you have to deal with and what physical challenges you will face.
Carsten tells us something about orbits & velocities and space propulsion.
We want to show how far we altogether can reach out, if we just know what´s possible for us right now. Therefore we host the Full Open Moon Science Days, in which university graduates hold lectures on space topics, like "easy access to e=m*c2" or "How to teach soccer to a robot?"
Full Open Moon Science Day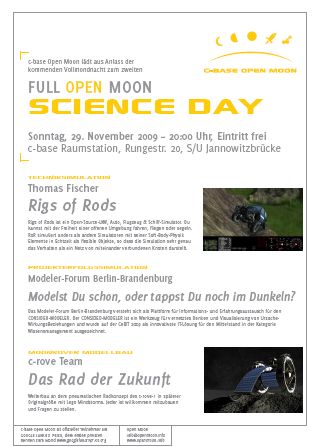 On Sunday, Novembre 29th, we host the 2nd Full Open Moon Science Day onbord crashed space station c-base.
This time we focus on "modeling the future".
The construction of the rover prototype is analogical ongoing with Lego Mindstorms. See how it works and help us assembling the c-rove.
Digitally there is the `Rigs of Rod´ open source simulation of c-rove´s path on the moon´s surface. A simulation which helps us testing the proof of concept.
And another simulation is on the way: The CONSIDEO-MODELER simulates a cause-and-effect chain to explore the success of a project. The Modeler-Forum Berlin-Brandenburg will show us how to work with this KowledgeManagementTool.
6 Responses to "Education"
Leave a Reply