Posted by gps2
Mondgeschichten für Kinder und Astronauten haben bei uns einen speziellen Platz !
Schreib mit an Märchen und Geschichten… [ …<-->(+)<-->…] …
---
Begeisterung für die Raumfahrt
Das Open Moon Projekt bietet die besten Möglichkeiten, die Begeisterung für den Weltraum und die Raumschifffahrt zu wecken, verbreiten und zu verbreitern. 40 Jahre nach der ersten Mondlandung wird die Commoonity zeigen, dass sie jetzt in der Lage ist, es mit der staatlich finanzierten Raumfahrt aufzunehmen.
Hiermit sollte sich jeder bekanntmachen, der auf den Mond will:

Unser Luft- und Raumfahrtingenieur Carsten Scharfenberg hat eine kurze Einführung zur Reise zum Mond verfasst. Er erklärt uns Orbits, Fluchtgeschwindigkeiten und wie wir sie erreichen können: Worauf wir uns eigentlich einlassen und welche Herausforderungen wir bewältigen müssen.
Wie baut man eigentlich eine Commoonity auf, die es wagt zum Mond zu fliegen?
"Praxisbericht über die Initiierung und den Aufbau eines Open Innovation Projektes"
Einige Hinweise gibt Open Moon Business Innovation Expertin Dr. Ricarda Schallnus: Sie hat die Formierung der Open Moon Commoonity dokumentiert: "Praxisbericht über die Initiierung und den Aufbau eines Open Innovation Projektes"
Wir wollen allen deutlich machen, wie weit wir uns hinaus wagen können, wenn wir nur wüssten, was jetzt schon alles möglich ist. Um dies allen immer wieder mal vor Augen und Ohren zu führen, veranstalten wir in unregelmäßigen Abständen den "Open Moon Science Day". Professoren und Projektinitiatoren laden wir ein, uns an ihrem Wissen- und Erfahrungssschatz Teil haben zu lassen:
Full Open Moon Science Day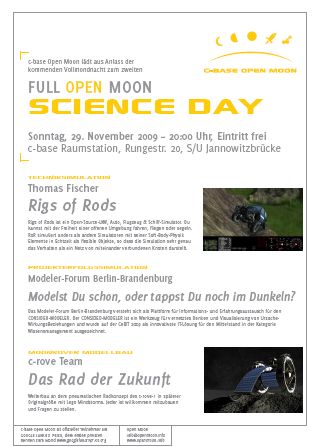 On Sunday, Novembre 29th, we host the 2nd Full Open Moon Science Day onbord crashed space station c-base.
This time we focus on "modeling the future".
The construction of the rover prototype is analogical ongoing with Lego Mindstorms. See how it works and help us assembling the c-rove.
Digitally there is the `Rigs of Rod´ open source simulation of c-rove´s path on the moon´s surface. A simulation which helps us testing the proof of concept.
And another simulation is on the way: The CONSIDEO-MODELER simulates a cause-and-effect chain to explore the success of a project. The Modeler-Forum Berlin-Brandenburg will show us how to work with this KowledgeManagementTool.
6 Responses to "Ausbildung"
Leave a Reply